Transforming Hawai'i's Youth Justice System
Replacing youth incarceration with a Native Hawaiian restorative system that empowers communities.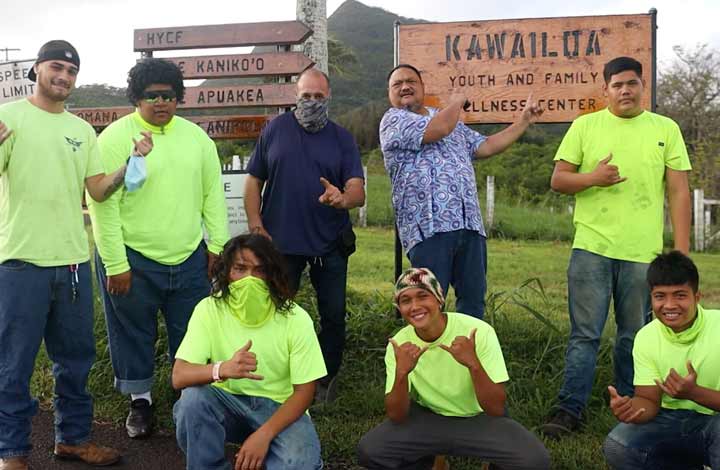 A Transformative System to Replace Youth Incarceration
The OYAH hui provides an indigenous, community-based alternative to incarceration that makes restorative justice a reality, countering inequitable justice systems that harm Native Hawaiians and Pacific Islanders from a young age.
Addressing Racial Inequities
Native Hawaiians and Pacific Islanders have long been disproportionately overrepresented in the juvenile justice system, receiving longer sentences for petty crimes of poverty as do other BIPOC (black, indigenous, and people of color) and transgender individuals. Many NHPI ʻōpio (youth) also experience challenges with school, substance abuse, trauma, loss of loved ones, broken relationships, depression, human trafficking, and economic instability – all worsened by confinement.
Research shows that incarceration does not deter crime; rather, it worsens criminal behavior, systemic racism, inequality, and disenfranchisement. By addressing the root causes of pain – poverty, mental health, homelessness, joblessness, family dynamics – youth and young adults will have opportunities to discover positive pathways to success through a process of healing and self-awareness, and to equitable access opportunities to lead a healthy life.
OYAH sees a more equitable future where punitive youth corrections are replaced by programs and policies focused on cultural healing and restorative practices. These efforts will lead to thriving Native Hawaiian and Pacific Islander 'ōpio and 'ohana.
Learn more about why the system needs to change »
1. Timothy Wong, "Hawaii Recidivism Update," Hawaiʻi State Department of Health, 2018.
Learn More about Collaborating to End Youth Incarceration
By creating a youth-centered community sanctuary, our collaborative partnership nurtures resilience and leadership among Hawai'i's youth. As a public-private partnership, OYAH chooses healing over punishment, changes mindsets and systems and provides young people, families, and communities with pathways for self-sufficiency, racial equity, and healthy lives.
Our goal is to:
Replace a punitive youth incarceration system with healing and preparation for life
Elevate evidence-based cultural programs and provide integrative services
Empower and resource Indigenous communities to address complex challenges with government support
Facilitate learning exchanges and support sanctuaries for youth leadership with other BIPOC communities in the state, nation and beyond
Our on-site partners provide programs and services of training, mental health, and support in these six areas:
Education
Reconnecting youth to viable educational pathways
Housing
Supporting the journey from unhoused to housed 
Workforce Training
Increasing value, knowledge and skills through workforce readiness and training
Leadership Development
Growing youth voice and vision for positive change 
Trauma-informed Care
Facilitating the journey out of historical trauma, sexual exploitation, violence and other sources
ʻĀina and Food Security
Eliminating food insecurity by reconnecting with the 'āina/land and sustainable agriculture
Pu'uhonua, a Healing Sanctuary
The Kawailoa Youth and Family Wellness Center sits on 500 acres of verdant green land, encircled by tropical forests and the towering mountains of Olomana and Koʻolau. Through a dynamic partnership with the Office of Youth Services, an attached agency of the State of Hawaiʻi Department of Human Services, the grounds of the Hawaiʻi Youth Correctional Facility are transformed into a place of healing and restoration.
Redirecting Resources through Policy Advocacy
OYAH aims to shift policies in a way that will lead to cost savings and expansion of prevention and diversion programs by directing resources to effective services for youth ages 12-17 and young adults 18-24 years.
"When you lock someone up, you don't address the underlying issue. We have to address the underlying issues. Kawailoa is... to meet the needs and help ʻopio/youth rather than lock them up."
– N. Worachit
Get Involved
Join this work to support opportunity youth in building greater belonging, purpose, community connections, education, workforce readiness and skills to contribute to and lead healthy, thriving families and communities in Hawai'i and beyond.